---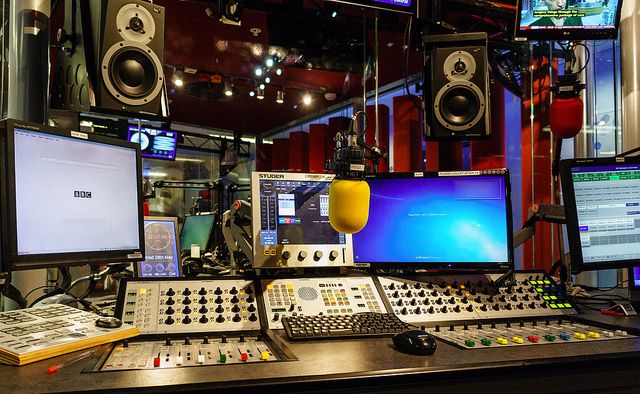 If you thought only a professional could start an internet radio station, you'd be wrong. Anyone can! After reading this step-by-step guide you could be ready to broadcast this afternoon. We'll get you up to scratch on the necessary equipment, legal issues, and even how to turn your station into a business.
Things to consider before starting an internet radio station
Step 1: Decide on your concept
Before you rush into anything, it's worth taking the time to consider what kind of station you want yours to be. This means thinking about size, collaborators, and content to ensure consistent branding across all of your programming. If you're planning to work with other collaborators and radio DJs on the station, make sure they're privy to these discussions to ensure that everyone is on the same page from the very beginning.
Here are some key questions to ask yourself:
Will my station only play music?
What kind of music do I want my station to play?
Will there be radio presenters / radio DJs? If so, how many, and how often will there be a radio show?
What kind of topics will the radio show cover?
Will the radio show host interviews and if so, what kind?
Step 2: Brand your station
Some of the first decisions you need to make before starting an internet radio station concern the name of your station and programming. This process should consider who your audience is and the message you want to put across, as well as evaluating what's already out there.
It's important to check that your station name or any other elements of its branding does not infringe on existing trademarks. You can usually find free online tools for doing this by putting "[your country] + trademark check" into a search engine.
Step 3: Check copyright laws
Music copyright laws for your country are another critically important element you'll need to consider to avoid any legal trouble. If your programming is non-musical (i.e. talk shows, panel discussions etc.) this may not be be a problem. But if you want to broadcast music, you'll need to look into buying a license. The cost of this varies depending on the countr(ies) you're operating in, as well as the countr(ies) you wish to broadcast to. Using royalty-free music can cut costs, but this may still involve buying a one-time license. You can source royalty-free music from a number of places, including Youtube, Audio Blocks and Jamendo.
The Broadcast Law blog contains a lot of useful information and further links pertaining to the legal issues surrounding starting your own online radio station, while copynot.org answers a few frequently asked questions about music copyright – though bear in mind that these laws may apply to the US only. It's important to remember that music licensing laws can be complex and vary depending on where you're based, so if in doubt it's best to contact a specialist legal advisor to help.
Step 4: Get some equipment together
You don't need a big budget or even very expensive equipment to start your internet radio station. All you'll need to start off with is a microphone, a pair of headphones, and a registered Airtime Pro station. If you want to build a more advanced radio studio.
If a relatively simple set-up is all you think you'll need, a USB condenser microphone like the Rode Podcaster will provide a 'plug n' play' all-in-one package that requires little technical knowledge or setup time. Plug your headphones into the included 3.5mm jack, and you're ready to go on air.
For those of you planning a more sophisticated set-up you may wish to invest in additional equipment to add more functionality to your 'studio'. An audio interface like the Focusrite Scarlett range will convert audio signals from regular XLR studio microphones into a high-quality digital output. Any combination of microphones with the commonly available XLR interface will work, however large-diaphragm condenser microphones (LDC's) like the Rode Broadcaster are best suited to capturing voices.
Adding a mixing desk into your setup will allow you to physically manage multiple input channels, rather than relying on software mixers. Any regular audio mixing desk will function in combination with an XLR audio interface. Specialised 'for radio' digital desks offer additional functionality for broadcasters – such as dedicated telephone inputs and on-board effects – but are also expensive.
When it comes to broadcasting software, Airtime Pro makes online radio automation and streaming easy. Once your physical equipment is all set up, we've included a step-by-step guide below to quick-starting your station with Airtime Pro.
Step 5: Find news to share
If your online radio station will be news-oriented, you'll need to figure out a strategy for planning your news items before the program goes live. One way to do this is to sign up the the RSS feeds of all the blogs and news sites that you usually follow and gather them in one place. That way, you'll have all the material you need in one place when preparing your show.
There are also a few online tools that you could use for this purpose.
Feedly allows you to "subscribe" to different news and blog feeds, as well as having a feature for creating different lists to organise content.
Tweetdeck is also a useful tool for gathering content from Twitter, allowing you to enter different search terms and see all the content related to those terms at once.
Google Alerts works in a similar way, allowing users to sign up to alerts for specific search terms, though these are delivered via email. If you're running a sports programme, you might, for instance, be interested in news around the topic of football in the UK. All you'd have to do was set up alerts for the terms "football" and "UK", and Google will deliver news on this topic straight into your inbox. You can also adjust the frequency of these alerts to suit your needs.
Get started with Revive Web Tech
---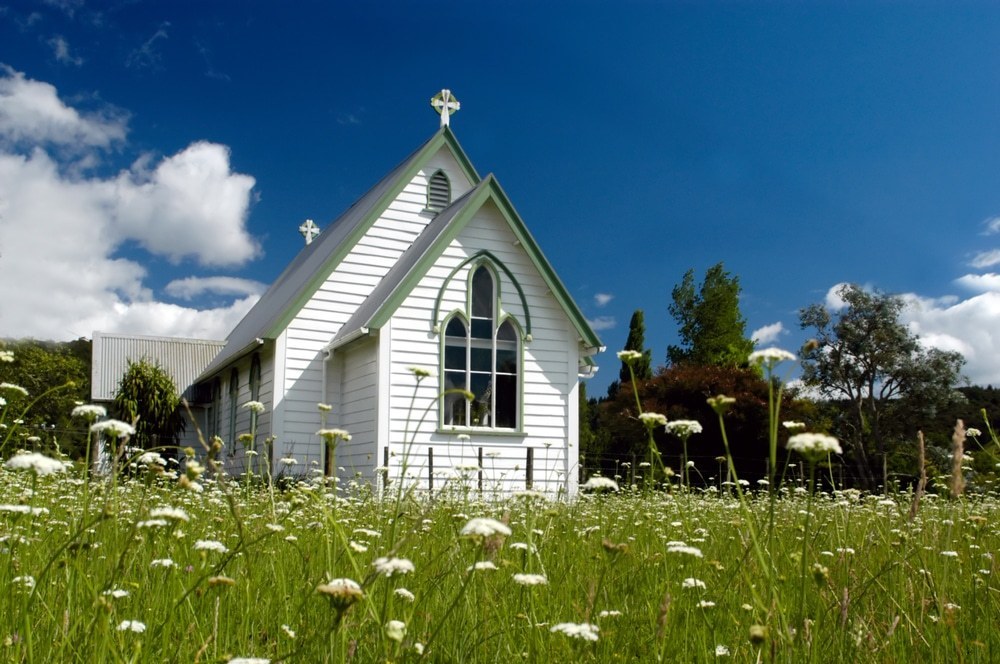 Here are the top three reasons your church needs an online ministry:
1.Over 3.8 Million people are online(Half population) –
Over 3.8 million people are online and increasing rapidly, with this global platform you can bring your church worldwide, that doesn't meant it's reaching all those people easily. But we know that the world is a much smaller place because of the internet. Every church has been given the mission to "go into the entire world." Wherever the people are, we should make the effort to make the presence of God felt. Because of the Digital Age, the Gospel can reach the farthest corners of the world.
2. You can get your entire church involved in discipleship.
Most of the individuals at your church have a personal screen. Whether it's their iPad, phone, tablet, laptop, or desktop, nearly everyone has access to at least one device. Every time your church members open their laptops or turn on their phones, they have an opportunity to share Christ. Online ministry gives each church member an opportunity to get involved. Everyone might not be able to go on a foreign mission trip, volunteer at a shelter, or preach an evangelistic series, but everyone can share God's love online. If a person can type and have contacts online, they can share the personal impact Christ has in their lives.
3. People are turning to Google for answers
When was the last time you had a question and typed it into the Google search bar? From questions about how to get rid of a neck kink, to whether God is real, people turn to Google for answers. The answers don't magically appear, however – someone must write the information and post it online. With an online ministry, your church can provide answers to certain issues people face. If your church's online ministry focuses on drug addiction, challenges in marriage, or raising a child with a disability, when someone goes online searching for answers related to those topics, your ministry's content could bring hope and healing. If people are googling, we should be there to answer when they ask.
STATISTICS REPORT OF ONLINE CHURCH –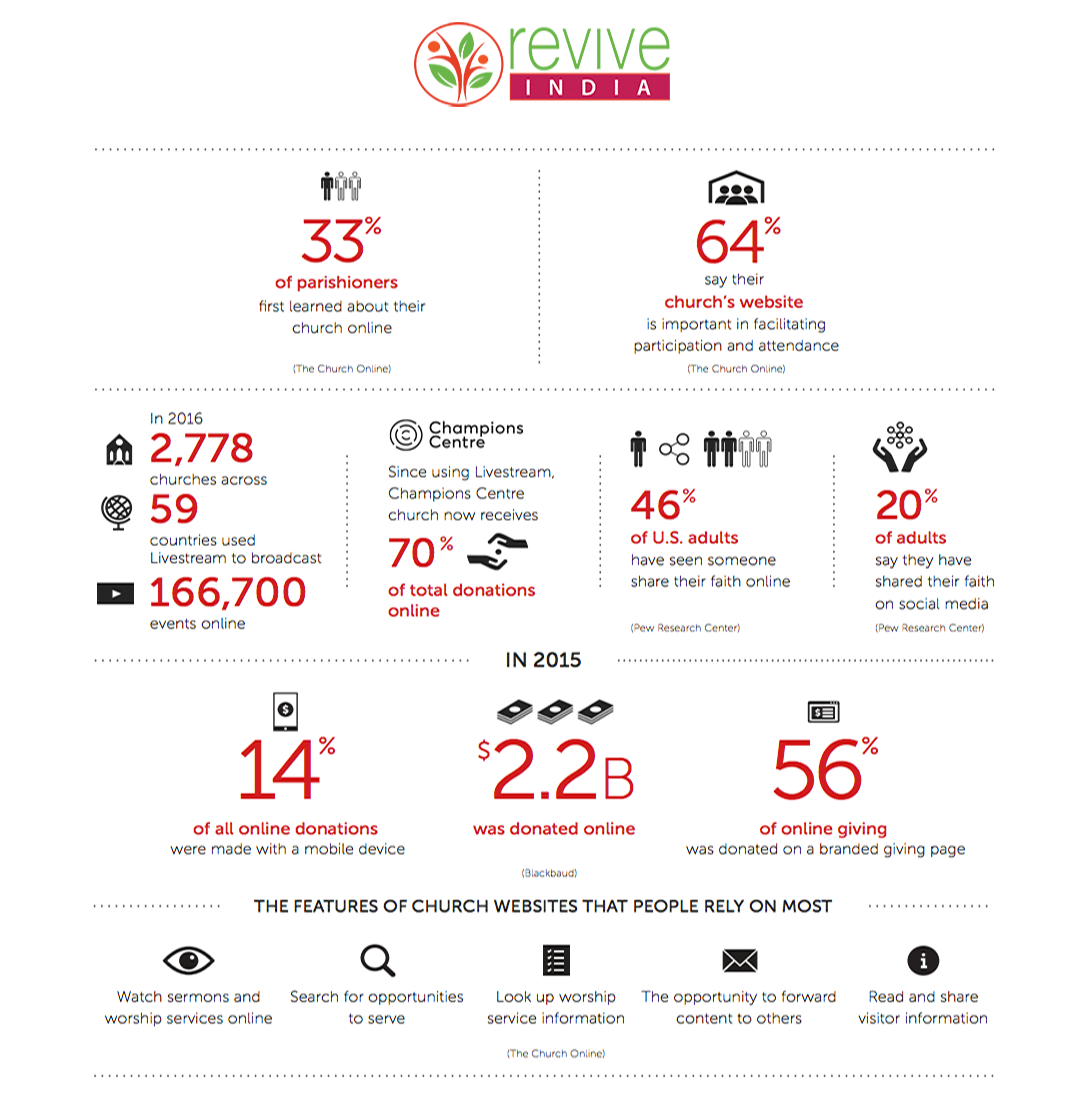 1. 33% of parishioners first learned about their church online. (Source: The Church Online)
2. 64% of parishioners say their church's website is important in facilitating participation and attendance. (Source: The Church Online)
3. Almost half of U.S. adults (46%) have seen someone share their faith online. (Source: Pew Research Center)
4. 20% of adults say they have shared their beliefs on social media. (Source: Pew Research Center)
5. Since using Livestream, Champions Centre Church now receives 70% of total donations online.
6. In 2016, 2,778 houses of worship across 59 countries used Livestream to broadcast 166,700 events online.
Here are six ways your church can launch an online ministry:
Launch a church website(For website contact us – +91 9826170730 email – info@reviveindia.org)
Go to social media like Facebook, YouTube
Start live streaming for online engagement(Blog link coming soon)
Make sermons available online(By recording sermons and post over social media)
Engage with church visitors using unique text-messaging software
Of course, you can use these platforms in a variety of ways to reach different demographics. As your church seeks to fulfill God's purpose, the Holy Spirit will lead and bring fruit from your digital evangelism efforts.
God has given us access to a powerful tool (the internet). By using it the right way and following the guidance of the Holy Spirit, your church can play its part in fulfilling the Great Commission. Our newsletters, blogs, and podcast provide information to help your church start an online ministry. If you have one going, using best practices can improve effectiveness.

---
---